Network
Grand Theft Auto News

Dan Houser: Interview with The Times (UK) & Silly Speculations

November 14, 2009, 09:59:19 pm by Matt


Dan Houser - one of the major developers behind the Grand Theft Auto franchise, along with brother Sam Houser and GTA producer Leslie Benzies - recently sat down for an interview with The Times.

It's a rare glimpse into the life & opinions of an individual who usually does his best to avoid the spotlight (a subject that also comes up during the interview), so take a few minutes to go through it - it's an excellent read.

There is one thing we'd like to clarify, however: the interview barely touches on the next Grand Theft Auto installment, so don't go expecting any groundbreaking revelations about the upcoming title. Despite what you may have read elsewhere, Houser doesn't tell The Times that the Rockstar team haven't picked a location for GTA V.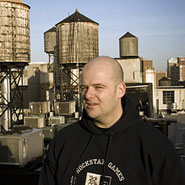 From the (misleading) MCV article:



However, the exec has told The Times that he hasn't even thought of a City to set the game in yet – let alone a plot.


Quote from The Times:



As for the boys themselves, they are already back at work. There's a Western game in the works for next spring, and the next GTA to think of. "We'll think of a city first, then the characters," says Houser. The script he will end up co-writing will run to around 1,000 pages, nearly ten times as much as a feature film.



Needless to say, it's a bit of a stretch to assume that work hasn't begun on the next Grand Theft Auto title based on a single statement. And let's not forget that it's been over a year since GTA IV was released to the masses.

The likelihood of an upcoming GTA sequel not being in production is very, very slim.

Related Links:
Dan Houser Interview with The Times - Times Online


0 comments | Write Comment
---

The great mystery of the EFLC manual's "hint-at-next-GTA" solved!

November 14, 2009, 09:52:43 pm by Matt


A while ago, it was reported on the discovery of an ad in the Episodes From Liberty City manual that supposedly hinted towards the setting of the next Grand Theft Auto game.

It has since been discovered by a user called "Lysergio" over at ModMyWhat.com that the image within the tear of the poster in the EFLC manual is in fact derived from another advertisement in GTA IV (pictured right). It can be found on the walls of two sex shops in Hove Beach and Star Junction (thanks Jordan @ PlanetGTA).

One of ModMyWhat's staff members, Gunner, created an animated GIF overlay of the poster and image as proof of the legitimacy of the claim, which you can view by clicking here. The only modification that had to be made to the image to match up with the poster is it was flipped horizontally.

So what does this tell us about the setting of the next GTA? Well, nothing really. Nothing except that we were all looking at this in the wrong way, perceiving the image within the tear of the poster as a hint when in fact, that information would have been right in front of our faces had that poster not been "ripped". Basically, it would have looked something like this(please note the example uses SAMPLE text)

So it was fun speculating, but the truth appears to be nothing more than a carefully articulated tease. We probably won't be hearing of what the future of GTA holds for us until 2010.

Image: Here

Source: ModMyWhat



0 comments | Write Comment
---

Lost and Damned DLC price cut

August 12, 2009, 10:02:04 pm by Matt


Those of you that haven't already purchased the first GTA:IV DLC; The Lost and Damned, or if you haven't considered purchasing it, this may make you re-think. From the 24th of August to the 31st of August, tLaD will be apart of the Xbox Live deal of the week where it will be lowered from 1600 Microsoft points to 1200 Microsoft points. This may be a good time to buy it if you haven't already.


0 comments | Write Comment
---

Red Dead Redemption delayed

May 27, 2009, 05:27:35 am by JeffU


TakeTwo have announced that Red Dead Redemption would be delayed untill the first half of its fiscal 2010, which runs from which runs from November 1 to April 30. They did not mention any news on L.A. Noire, weather or not we'll see anything on this we'll just have to wait and see.


0 comments | Write Comment
---

Grand Theft Auto IV - The Ballad of Gay Tony

May 27, 2009, 05:24:09 am by JeffU


Recently, TakeTwo announced the next DLC would be named "The Ballad of Gay Tony"!



As Luis Lopez, part-time hoodlum and full-time assistant to legendary nightclub impresario Tony Prince (aka "Gay Tony"), players will struggle with the competing loyalties of family and friends, and with the uncertainty about who is real and who is fake in a world in which everyone has a price.


The next GTA DLC package will cost $20 dollers or 1600 Microsoft points, Rockstar is also going to release a retail package with this New DLC and The Lost And Damned for $39.99.
You will not need the full game for this disc, you can just pop it in and play these episodes!

Stay tuned for more information on the new DLC!



0 comments | Write Comment
Members Online
16 Guests, 0 Users